We are not in Tuscany and we are not a typical family run farmhouse-agriturismo!
It is just the two of us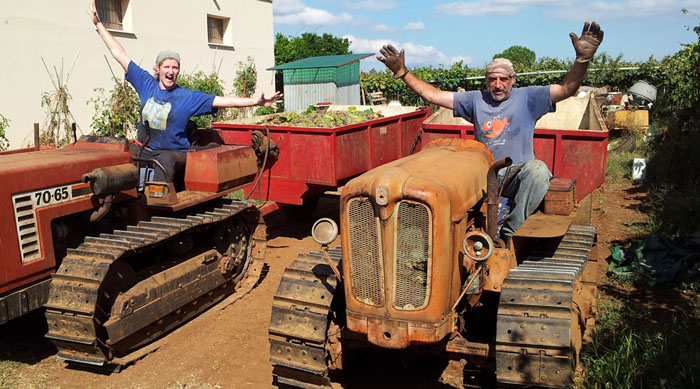 Tommaso Pianelli vineyards
Third generation of farmers, wild and impulsive, loves rock music, comics and travelling, good food and wine.
His best friend is his FIAT 411
Cristiana Aureggi olive groves and marketing
A degree in Theatre design from the University of London, avid traveler from Northern Italy, sociable, loves a challenge. Her favourite time-off is spent sitting at a bar chatting with friends.

The estate
Azienda Agricola Pianelli Tommaso is a small single estate organic wine and olives farm.The estate totals around 14 hectares, 10 hectares of which are covered by vineyards, the rest is devoted to olive-groves and mixed orchard..

Our philosophy and organic farming
Our philosophy merges values like family and tradition with our love for nature, human relationships as well as customer satisfaction and our own well-being.
Our care and effort are continuously aiming to preserve the natural setting and achieve uncompromising quality while maintaining the fullest respect for man and nature. Quality is another reason why we decided to embrace the organic method production and is important for us because it ensures the viability of our business and the satisfaction of our customers.
Our products are certified Organic according the European Directive. We are 100% certified organic since1995 in the whole system of production which includes periodic controls and analysis.
Organic means not only that farming methods are healthy and natural, the respect of biodiversity of plants and animals and fertility of the land, but also the exclusion of the use of GMOS in every step of the production process from seeds to plant, to raw materials.
Vineyards
In the farm we grow 7 varieties of grapes: Bellone, Nero Buono di Cori (native), Trebbiano, Malvasia, Cesanese, Merlot, Montepulciano d'Abruzzo.

Olive groves and La Stramma extra vergin olive oil
Our olive groves is located at about 400mt a.s.l., on the Lepini hills, and enjoys a stunning view on the Agropontino, the islands of Ponza and Ventotene. The cultivar is 90% itrana. In Italy there are over 300 cultivar (variety/type) of olives, Itana is native from our territory and can only be cultivated in our area.
The olive harvest is conducted manually, taking particular care not to create situations of stress or damage to the trees.
Usually it starts in October and finishes within the end of November. Within hours from picking, olives are taken to the press which, in the specific case, is a certified organic family run business with decades of experience.

Pressing the olives at a cold temperature and immediately after picking, preserves the aromatic components and keeps the acidity level very low. After pressing we leave the oil to filter and then we bottle it.
La Stramma Extra Virgin Olive Oil is kept and bottled in our dedicated certified organic olive oil room on the premises. The temperature of conservation varies is between15 and 18 degrees.
Acidity percentage: 0,02 - 0,10%.

History
In the late 50's Giorgio and Silvana invest their energy and money in buying small plots of land in Cori to add to the family vineyards. In 1995 Tommaso in his early forties, buys another plot adjacent to the existing vineyards and adheres to the Organic Agricultural methods.

Meanwhile, on the near hill in Cori, Cristiana and Monica Aureggi, after 12 years of experience abroad in theatre and Nature Conservation, run their small organic olive grove (La Stramma) producing excellent Organic Extra Virgin Olive Oil, winner of numerous recognitions.
At the beginning of 2015 Monica returns to Northern Italy and Cristiana joins Tommaso's business, bringing not only her olive groves but introducing some new features such as new storage laboratory and adequate bottling and production of BIO COSMETICS creating the line La Stramma.
The ORGANIC oil packaged keeps the name LA STRAMMA

What is "la stramma"?
The stramma (Ampelodesmos tenax) also called tagliamani, is a kind of perennial herb belonging to the family Gramineae, which is widespread in our area. Ampelodesmos etymologically means for binding vines, and tenax is tenacious, for its resistance.

The stramma was destined to various uses over the centuries, depending on the location, to make ropes, craft rustic furnishing for country houses, baskets, roof coverage, and for military uses, such as the protection of the trenches.